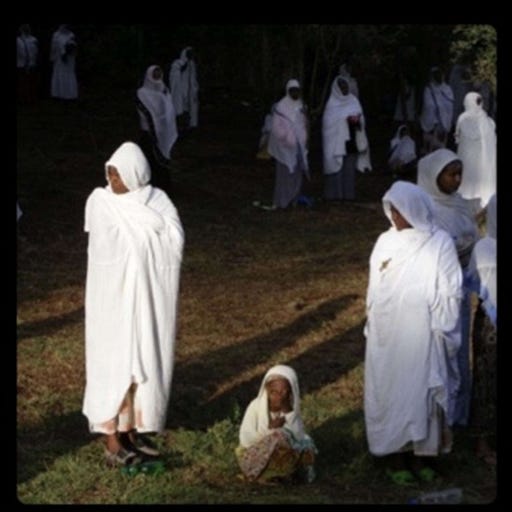 Aug 10, 2021 • 4M
Fast of our Lady's Ascension
with an amharic spiritual song
A critical examination of the sacred scriptures, as they are read-aloud by a dedicated student of Aksum, Alexandria, and Antioch—and member of the Ephesus School Network.
Tsome Filseta is one of the seven mandatory fasts that the EOTC calls her faithful to fast. Whether they fast it or not, and how they do so, the Lord knows. Filseta is also known as the children's fast, because she is only sixteen days in length, which is long to a beginner but short to a hardened veteran who fasts for fifty-five days at a time. Also, since it is in August, children are usually out of school and able to attend the liturgy and receive communion on a daily basis.
My father's father was a deacon of Ashewa Michael in Diré Dawa, Ethiopia (one of the cosmopolitan gems utterly debased by communism's collapse of the society) in his youth before he retired to be an entrepreneur and later hand of the governor of the Welo province. I have been told (he fell asleep with the Lord before I was born) that toward the end of his life the only fast he still practiced rigorously was Filseta. Were he amongst the breathing, I would refrain from listing his pieties aloud in order to keep pride from creeping, crawling, and crouching at his door. Nevertheless, he breathes not, and yet he lives. He honored Filseta by eating qolo (roasted grains) alone and sleeping on the hardwood floors of his abode rather than in his comfortable bed for the duration of the fast. Of course he accompanied the food restrictions with additional prayers, which were already apart of his daily routine. I haven't heard any stories of almsgiving that he did, but perhaps that is for the better. Certainly, fasting and prayer are lonely without almsgiving, and all three should be done as secretly as is humanly possible, and most importantly without any expectations of imminent earthly gain.
I was born with sundry moles and even a distinguishing blue nevus. My mother, who is a believer, but more inwardly than outwardly, would reassure me when as a young warthog I felt shame about these birth marks amidst my mocking and scoffing peers. She would tell me, modernist though she was, that each of these moles and even the blue nevus were places where the Virgin Mary had kissed me. As a child I immediately believed her; just as when cartoons about storks bringing babies prompted me to raise questions and she answered, without hesitation, God, and I immediately believed. As a teenager and adolescent I disbelieved. And yet, again, as an adult, I believed and believe. She had me baptized at a parish of the Virgin Mary, and 25 years later I received holy orders into the diaconate by the laying on of hands of an apostolic bishop at the same parish, and the period of the Virgin's fast has been a moment of great reflection and great changes throughout a decade of my adult life. This cycle of the church calendar is no different. As much as things change, things stay the same. There is nothing new under the sun.
All of these words are meant to guide you to your own dedication and devotion to the Virgin. Read from her anaphora, widasé (praise), melki (an ode to her likeness), yiwédswa (they praise her), anqetse birhan (gate of life) etc. Forgive a sinner. Feed a hungry person. Clothe a naked one. The nude are so by choice. Not so, the naked. She has helped me, helps me, and will help me. This I know for the bible tells me so. Behold, from henceforth all generations shall call me blessed. Fast this fast. Even if you are late. Fast this fast.
And let the melodies of my friend Master of Tongues Dcn. Birhanu Nigatu guide you in singing a spiritual song serenading her to serenade our Lord before His awesome throne.